Nowadays it would seem to be a senseless object, but up until 20 years ago, the stencil was an essential tool for any architect or technical drawer, in order to create ordered and precise drawings of their projects. I can still remember seeing stencils hanging on the wall in my father's office; today still hanging there, but as a design object, rather than highly precise work tools.
Today's tools of the trade are completely different. High quality software, which is incredibly precise with hundreds of different functions, but they also sometimes risk taking all creativity away from the professional's hands, making him into a somewhat bored technician. Usually, when I notice my concentration wandering and the computer monitor transfixing me, I need to put my Mac on standby and surround myself with paper and pens and any other abstract objects that may in some way stimulate my creativity.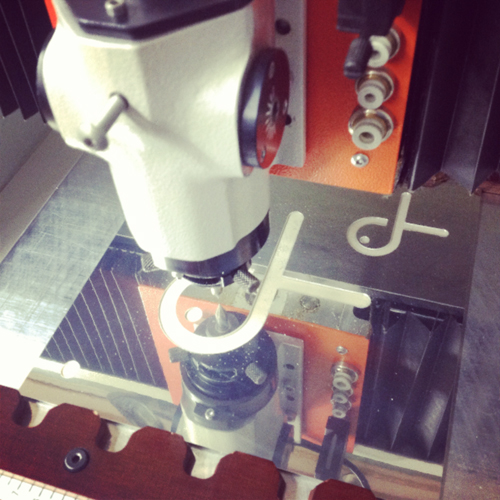 The last time this happened to me, I turned my hand to creating dodify's very own stencil. My stencil was to be based around the fish shape from which we had created the dodify logo! This particular shape has allowed us to reproduce almost the whole alphabet. With great surprise, the stencil, once finished proved particularly useful in creating wonderful and very precise curved and straight lines.
Creating the stencil was quite difficult: first I drew the form in vector format, and then went to consult with a good friend of mine Sebastian. Sebastian is an expert in cutting metals in his workshop, although we weren't too sure on which metal to use as we needed one which would then enable me to draw with ink. It would have to be a metal, which could be cut with a great deal of precision that would in turn allow me to reproduce curves accurately on whatever material I decided to use. Sebastian advised me on using two different metals: a thin plate of aluminum and another one of bronze, which resulted to be slightly heavier. It turned out that cutting bronze was more precise than aluminum, and it gave a much cleaner cut! Sebastian works with a numerical pantograph and along with a sharp blade in carbon managed, with great deal of patience and skill, to get a fantastic result truly worthy of skilled workmanship.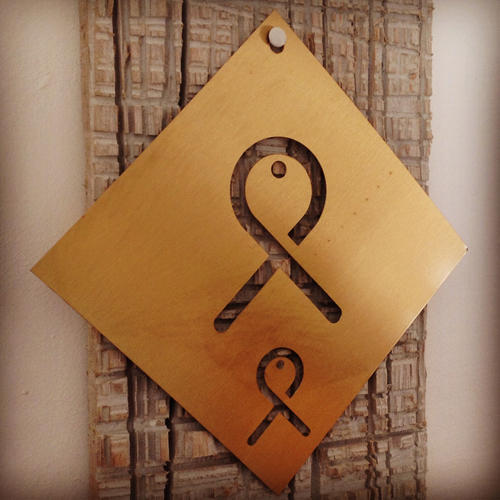 So if in the following months you see lots of dodify's fish all over the place, especially on our social network pages, you will now know that I have been at work with my new stencil, and obviously having great fun too!